A1 Opportunities, Inc
A1 Opportunities, INC provides outreach programs and supportive services for people in need including the homeless, low-income individuals, victims of domestic violence, victims of human trafficking and former inmates. The programs will include transitional housing and educational programs.
Your generous donations change lives and save lives. Thank you for your support.
Donate Now
Provide direct support to an individual by paying housing expenses or offering education.
Help Now
Volunteers are very important to our organization. Please contact us to apply.
Join Now
Our Charity Causes
A1 Opportunities, Inc will provide educational programs including GED preparation, job skills training, life skills development, driver's education, music classes and art classes. We aim to equip those in need with the tools to succeed in all aspects of life. In addition, we will offer transitional housing for people in need. We will help individuals in need to get back on their feet and become productive citizens.
Find a cause you believe in and make good things happen.
The mission of
A1 Opportunities

is to inspire, motivate and educate people in need while providing guided direction, education, housing, and customized case management.
Our Mission
&

Vision
We will help individuals in need to get back on their feet and become productive citizens. Pending available funds, A1 Opportunities, Inc will provide a campus-like setting equipped with a learning center will house the variety of people in need. Experienced volunteers and staff will provide assessments to individuals based on need, attitude, and the will to change their lives. Community outreach will be in a wide variety of areas including but not limited to shelters, group homes, jails, prison systems, human trafficking survivors, court houses, and domestic violence victims. All of the organization's time is allocated to providing educational programs and transitional housing for people in need. The program will be conducted in the state of Florida, and will be funded by donations, grants and sponsorships.
Our Happy Volunteers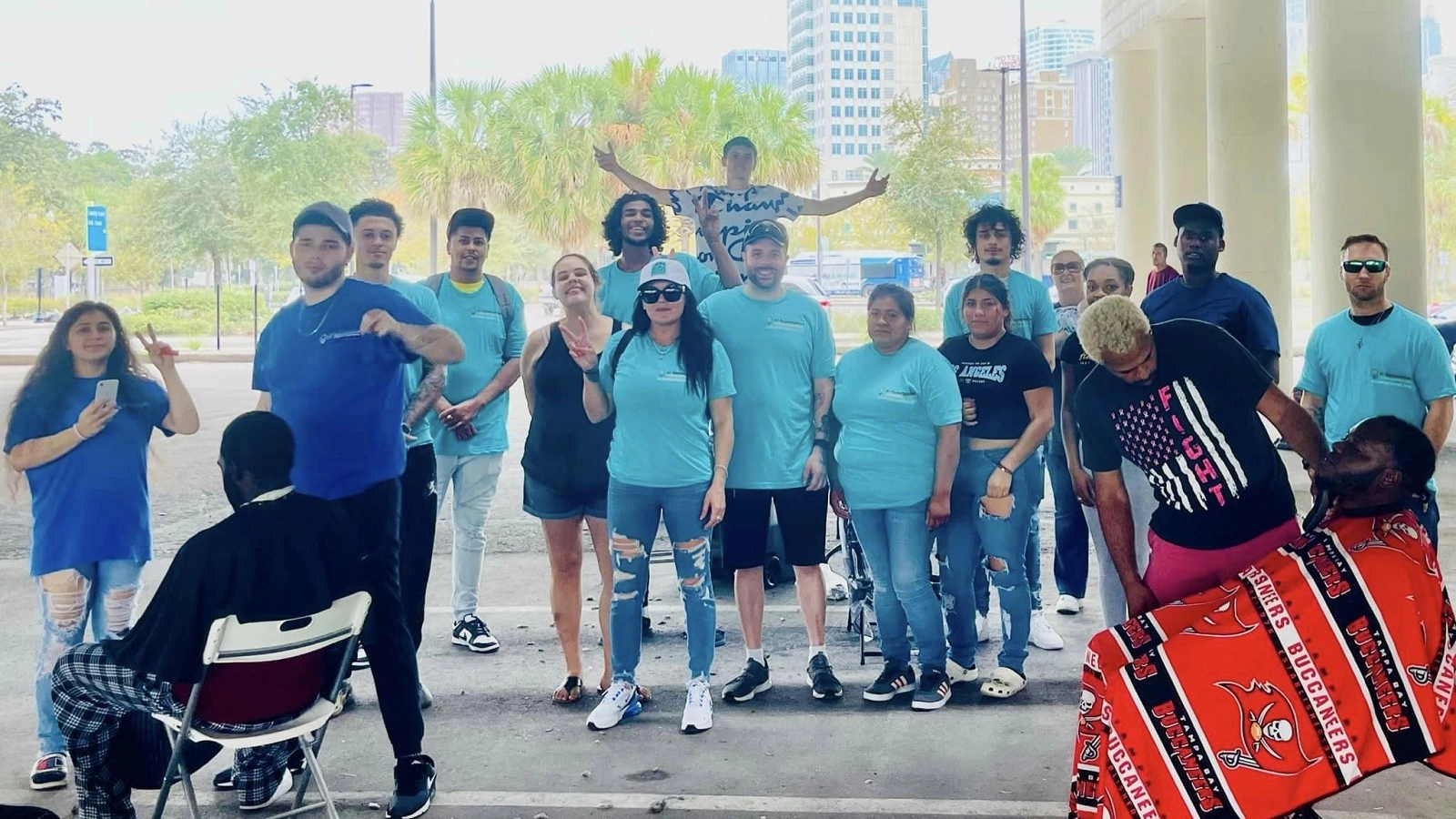 Would you like to contribute your time and experience to our organization, and help people in need? You may gain work experience, broaden your skills, develop new interests and become more involved with the community. Please complete the contact form to apply for volunteer opportunities.
Join Now
Making an Impact on Homelessness
The 2020 Annual Homeless Assessment Report found that in the United States: 580,000 people were homeless on a single night.
61% were staying in sheltered locations, emergency shelters or transitional housing programs, and nearly 39% were in unsheltered locations such as on the street, in abandoned buildings, or in other places not suitable for human habitation. For the fourth consecutive year, homelessness increased nationwide.
Over 90% of women who are homeless are victims of physical or sexual abuse. Escaping the abuse is the main reason they are homeless.

A report released by the National Center on Family Homelessness found "A staggering 2.5 million children are now homeless each year in America. This historic high represents one in every 30 children in the United States."
Homelessness in Florida
Florida's Council on Homelessness Annual Report 2021 found that Florida is home to an estimated 21,218 people experiencing homelessness on any given night, 9 which includes people who live in places not meant for human habitation (e.g., on the streets, in cars, wooded areas, or abandoned buildings) or staying in emergency shelters or transitional housing until they find stable permanent housing of their own. Read more about homelessness.
Our Awards
We're excited to share that our organization has earned a 2023 Silver Seal of Transparency with Candid! Now, you can support our work with trust and confidence by viewing our nonprofit profile

Support Us
Shopping online? Make a difference and shop for products at
smile.amazon.com/ch/84-3048956
Amazon will donate 0.5% of your eligible purchases to our non-profit organization. Please bookmark to make it easier to shop. Thank you!
About Us
A1 Opportunities INC is a 501 (c)(3) non-profit organization recognized by the IRS with tax ID 84-3048956. The program will be conducted in the state of Florida, and will be funded by donations, grants and sponsorships.
Testimonials
A1 Opportunities has saved my life. I'm very thankful for everything done for me. I am entirely grateful and thankful to all of its staff and volunteers.
My experience at A1 Opportunities was truly the catalyst to my path of recovery. I'm very grateful for the program for pointing me in the right direction.